Web Portal
Web Portal
Our proprietary, interactive portal is your centralized platform for accessing and managing your benefit plan.
Manage Benefits Activity on Your Schedule
The Benefit Management Administrators web portal is available 24/7, allowing clients to submit new employees, process terminations, access account information, and run reports.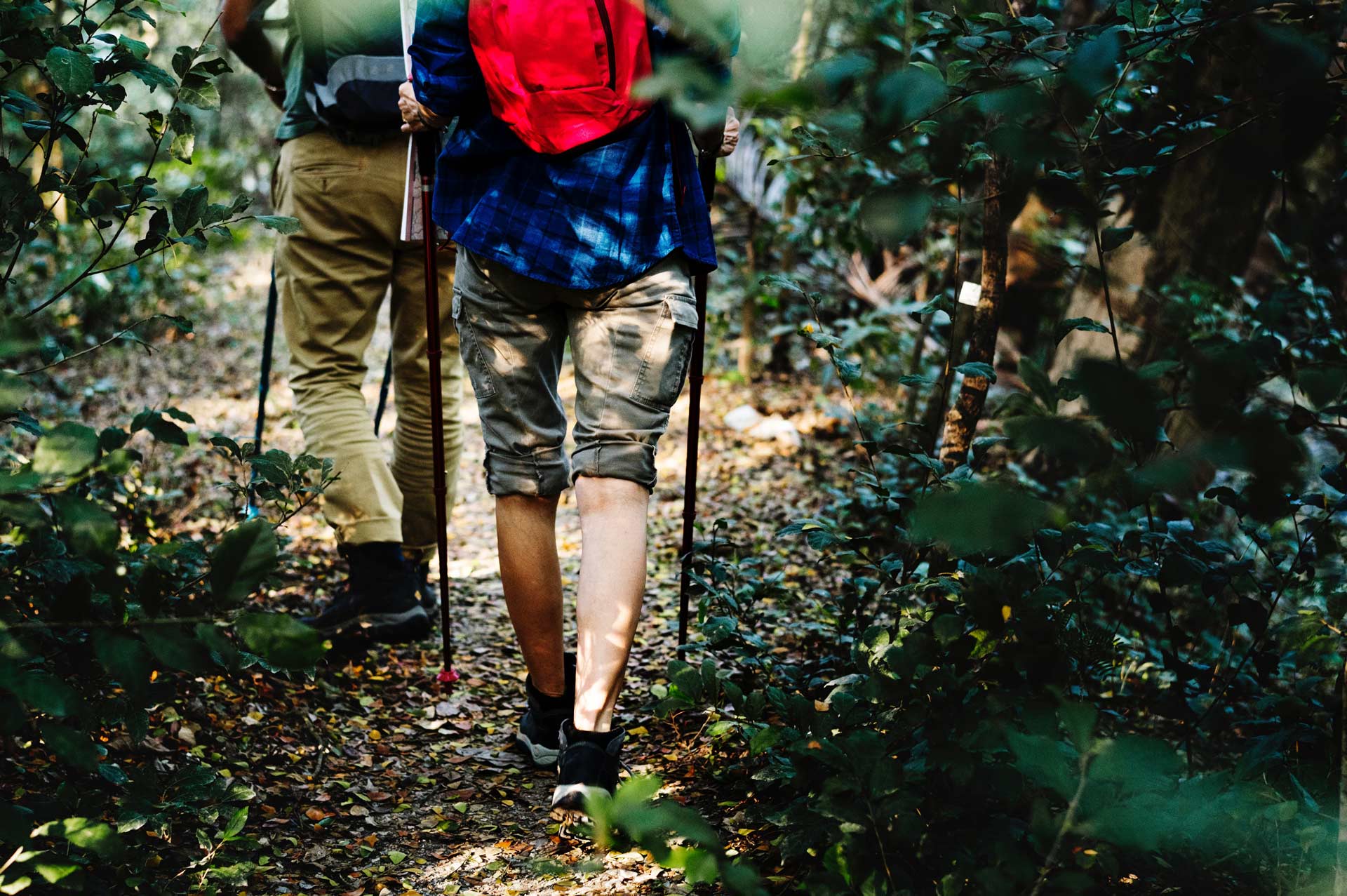 Useful Tools for Everyone Involved in Benefits
Benefit Management Administrators' portal provides a single point of access to all pertinent plan data, programs, and benefit tools.
Through this 24/7 access, members, brokers, and employers stay informed about claim activity, plan performance, and healthcare spending.
For Members
View claims and coverage details 24/7
Ask questions using secure email and live chat
Download important documents and Explanations of Benefits
Build personal health using wellness tools and telemedicine
For Brokers
Access your clients' details using one centralized login
Assist with member ID card requests
Review client enrollment and plan participation
Track plan performance through online reports
For Employers
Manage enrollment for current and new employees
Review and approve invoices & claim funding requests
Assess plan performance with online reporting
Learn from attorney-written HR compliance articles, videos, and interactive tools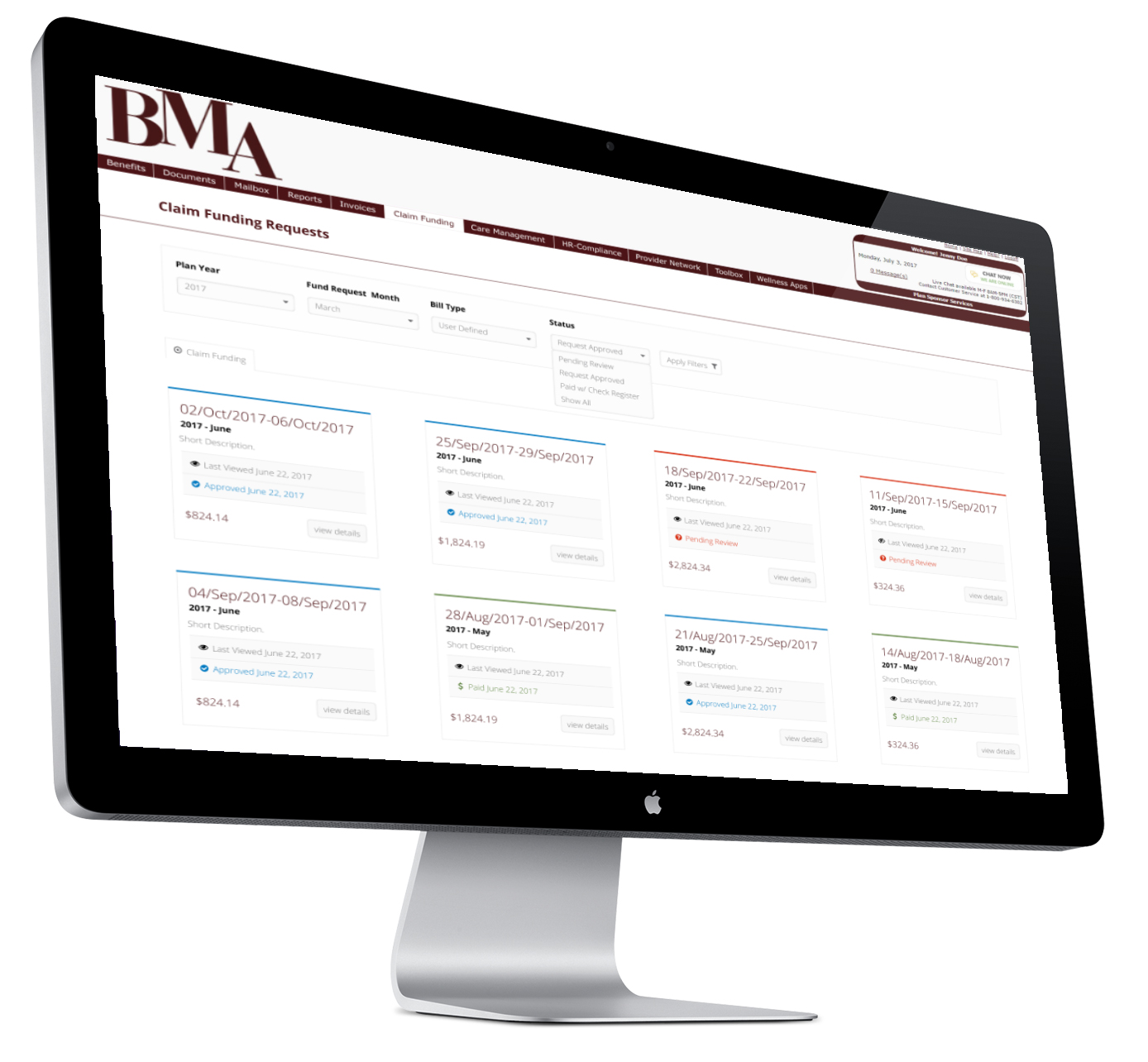 Claim Funding and Invoicing
To strengthen client productivity, our Accounting Team collaborates with brokers and employers through our portal.
Claim Funding
We post claim funding requests and supporting documentation to the portal each month. Brokers can review the requests and Employers can approve or decline the requests. The portal keeps a record of all requests and tracks all request activity to keep all parties informed.
Invoices
Monthly Invoices are posted to the web portal, triggering an email to Employers and Brokers about new invoices requiring review and approval. Employers coordinate with BMA Accounting about payment methods to ensure a seamless billing process.
Reports
Benefit Management Administrators provides a variety of operational reports through our web portal. These statistical and financial reports are formatted, compiled and classified based on each client's individual plan.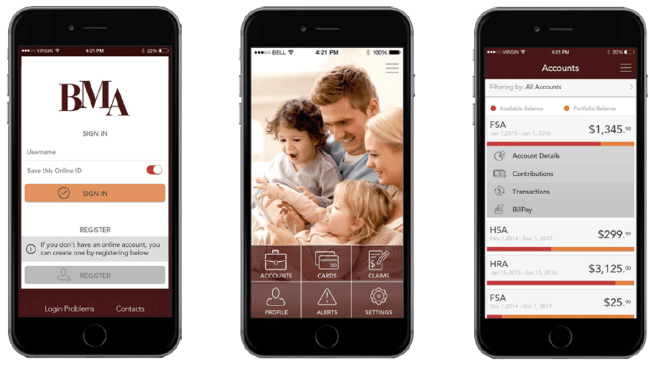 FSA Mobile App
Members on our FSA or HSA plans have convenient access to their account details on our mobile app. Whether checking balances or submitting claims for reimbursement, members can do so quickly and easily from their mobile device.
What Our Employees Are Saying About the Portal
With a full team of developers and IT project managers, we are constantly improving the technology behind the web portal, to make it easier for members to reap the benefits of their employer sponsored-benefits. Some ideas come from in-house, while other feature ideas come from clients; we are open to improvement from any source that can make our portal better. -Ellice Sanchez, Portal Design Specialist
Request a Demo
Interested in seeing more about the BMA Health Portal? Contact us to schedule a demo.